Install Twitch App on Samsung TV – Here's how!
Samsung currently does not offer an official Twitch app for Samsung Smart TVs. However, there is a way to install a Twitch app on a Samsung TV.
There are numerous reports on the Internet that there is no Twitch app for Samsung TVs. A few years ago, a Twitch app was added to the App Store, but it was also deleted again because it was not an official Twitch app.
So, many Twitch fans face the same problem. Of course, you can stream Twitch via the integrated web browser, buy an extra FireTV Stick or always connect a laptop to the TV via HDMI. However, I don't find either solution particularly convenient.
But: There is a better solution! With a little technical understanding, you can install an unofficial Twitch app on your Samsung TV.
Time required: approx. 2 hours
Important info about this tutorial (please read!)
In this GitHub repository you will find everything you need to install the Twitch app on your Samsung TV. This app is a web app for your Samsung TV, where Twitch runs completely platform independent and is always provided with the latest updates.
In a nutshell, all you need to do is activate a Samsung account as a developer account, install Tizen Studio and a few packages on your computer, and then download the Twitch app to your TV. But don't worry, I'll explain everything in detail – it's easier than it sounds.
Note: The project is not from me! I would like to give with this contribution only important tips for the installation.
For many steps, I've added notes that I noticed during the installation to help you have a smooth installation. Also, after each step, I've linked to the corresponding passage in the GitHub documentation. There you will find more helpful details. Best open both pages in parallel for the full drone of information! 🙂
1. Activate Samsung Developer Account
To begin with, you need a Samsung Developer Account. The best way to do this is to use your existing Samsung account, with which you are already logged in on the TV. If not, you can simply create a new one and log in on your TV with it.

2. Set Samsung TV to Developer Mode
To play your own app on your Samsung TV, you need to set the internal app store to developer mode.
Open the following app on your TV: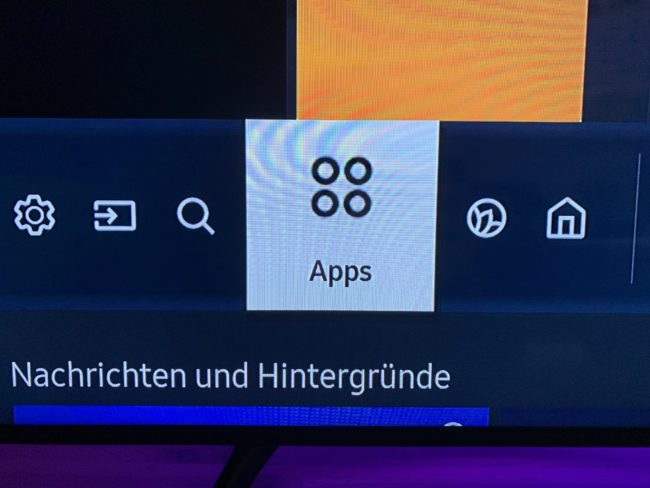 Now you have to enter the sequence "12345" on your remote control. If you have the same remote control as in the picture, this may not work. To work around this, download a Remote TV app from the App Store (iOS) or Play Store (Android) on your phone, connect it to the TV. You can delete the app after entering it.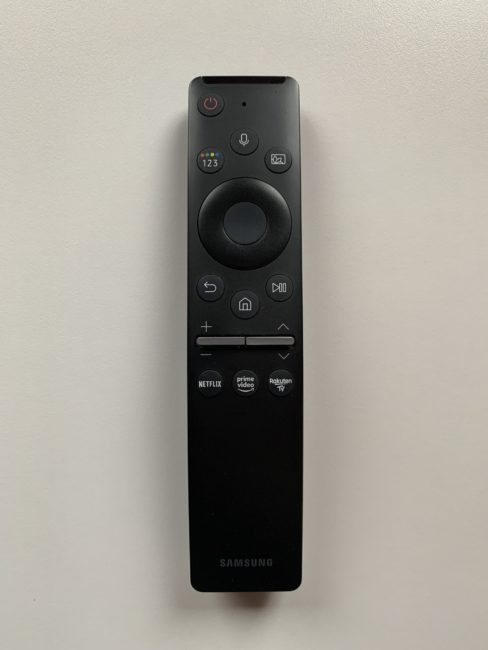 If this was successful, a small window will appear where you have to activate the Developer Mode and enter the

IP of your computer

. If this was successful, your "Apps" app on the TV should look like this: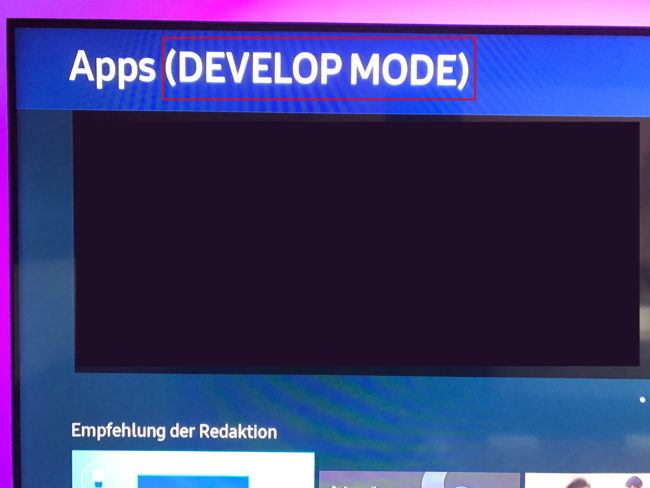 3. Install Java SDK
Download and install the

Java JDK 8
Now open your Windows PowerShell with administrator rights and enter the following command:
Set-ExecutionPolicy Bypass -Scope Process -Force; iex ((New-Object System.Net.WebClient).DownloadString('https://chocolatey.org/install.ps1'))
Then close and reopen PowerShell and enter the following command:
choco install openjdk12
If you don't use Windows:
4. Install Tizen Studio
Now you need to install the Tizen Studio program on your computer:
Important: Install the program on your C:/ partition. So leave all program paths at default values during the installation. If the program is located in a different directory, not all packages will be installed later.
If you don't use Windows:
Install Tizen Studio on Ubuntu

5. Tizen Package Manager: Install required packages
Before we can transfer the app to the TV via Tizen Studio we need to download some packages. When you open the program you just installed, the Package Manager will open.
Under Main SDK, install the Tizen SDK tools item: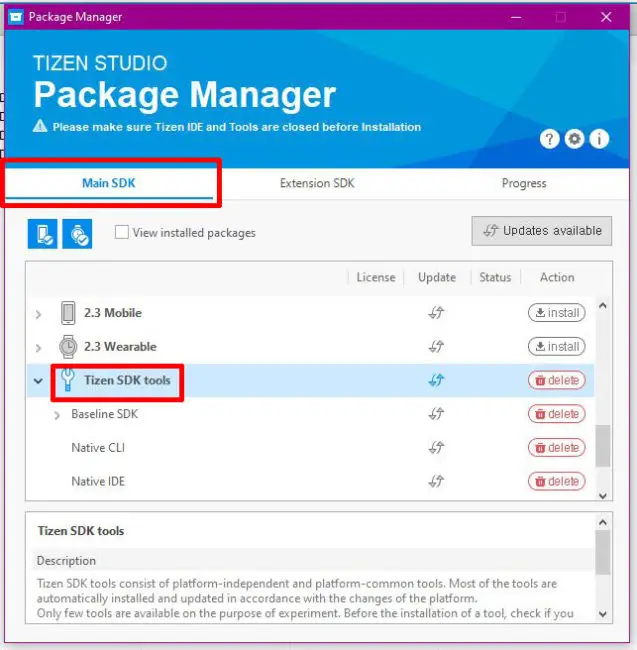 Additionally, under Extension SDK, install TV Extensions-6.0 > Web app.development: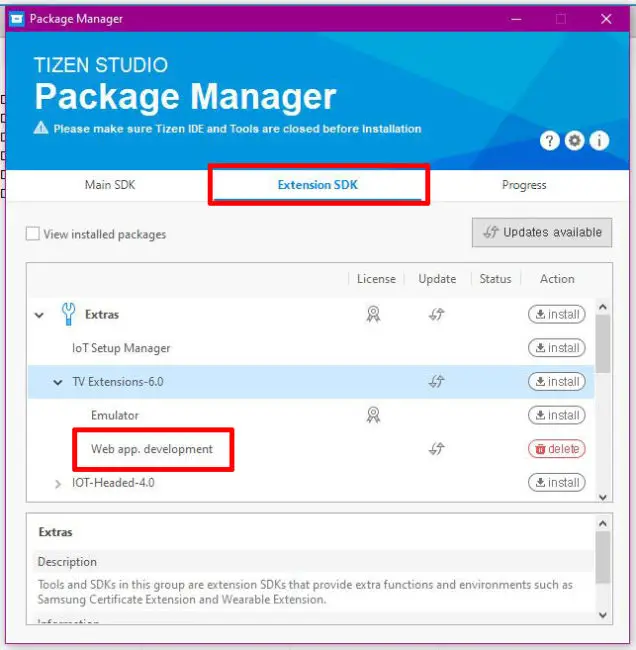 Also, under Extension SDK, install TV Extension Tools > Web app.tools: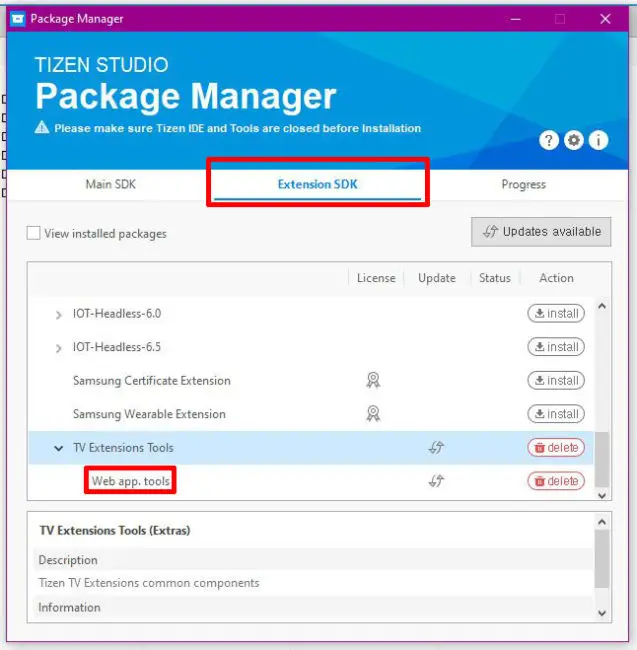 The installation of the packages may take some time.
If some packages cannot be downloaded, simply restart the installation of the packages. I had to start some of them several times.
If the installation still does not work: Did you follow the advice from step 4?
When all packages are installed, you will be asked if you want to start Tizen Studio. You can say yes and give the program permission for your firewall.
6. Select Samsung TV in Tizen Studio
In Tizen Studio, select "Launch remote device manager" as shown in the picture.

Make sure that your TV is turned on and connected to the WLAN
There you click "Scan" and after a short search an entry like on the screenshot should appear. Click there on "Off" to establish a connection.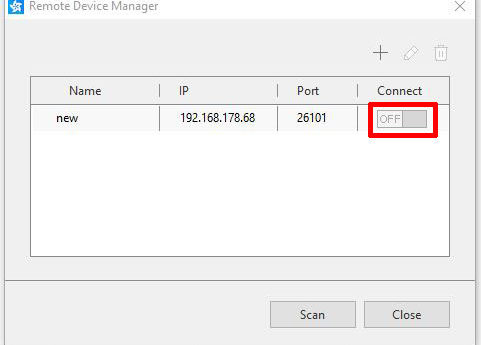 Important: Computer and TV must be in the same WLAN (network).
7. Generate certificate
Now click on Tools > Certificate Manager
Click on +
Select "Tizen" there
Choose a certificate name (e.g. twitch-app)
Choose "create a new author certificate"
Set Name, Password, etc.
Choose "Use the default Tizen distributor certificate"
Check whether the certificate now appears under "Certificate Profile" and has a blue check mark
If the Certificate Manager does not open, open the Package Manager again and reinstall it under Extension SDK > Samsung Certificate Extension.
More bug fixes and possible problems can be found in the repo again:
8. Twitch App importieren
Kindly, the GitHub repository provides us with the complete code of the Twitch client app.
To do this, select the latest release in the GitHub repository and click on the first zip file under "Assets":
Or via direct link:
Direct download release_4_0_1_V9.zip
Unzip the downloaded zip file
In Tizen Studio, click File > Import > Tizen > Tizen Project in the top menu. There select the unzipped folder
Click on"Next" and then "Finish"
The next step is optional: I personally didn't find the included logo (will then be displayed on the TV) that fancy, so I downloaded this official Twitch logo and cropped it to 435×435 pixels. Then replace it with the icon.png file in the unzipped folder.
Note that the logo must be named icon.png.
Almost done, now comes the last step! 🙂
9. Install Twitch App on Samsung TV
To install the app on your TV, select the project in the left margin: right click and then Run As > Tizen Web Application.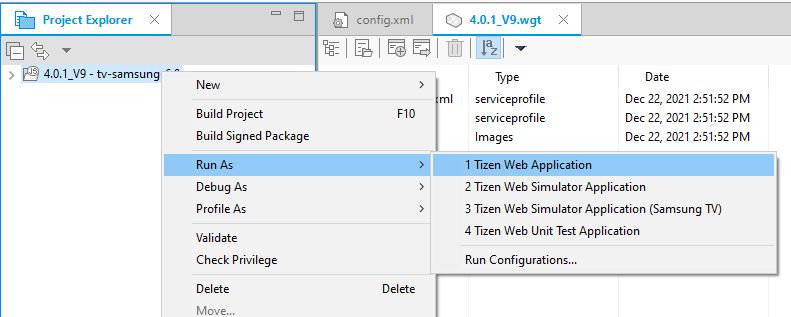 A few seconds later, the app should launch automatically on your TV 🙂
Conclusion
I hope this guide helped you to successfully install the Twitch app on your Samsung Smart TV. Huge thanks to Felipe Leon, of course, who implemented this project.
If you get stuck at any point, first check the (often) linked repository and look through the instructions there. Alternatively you can also post a comment here.
If you find any problems/bugs in the app, you can report them here.
What did you think of this post?


Related Posts
This can also interest you