8 Free SEO Tools for your SEO/search engine optimisation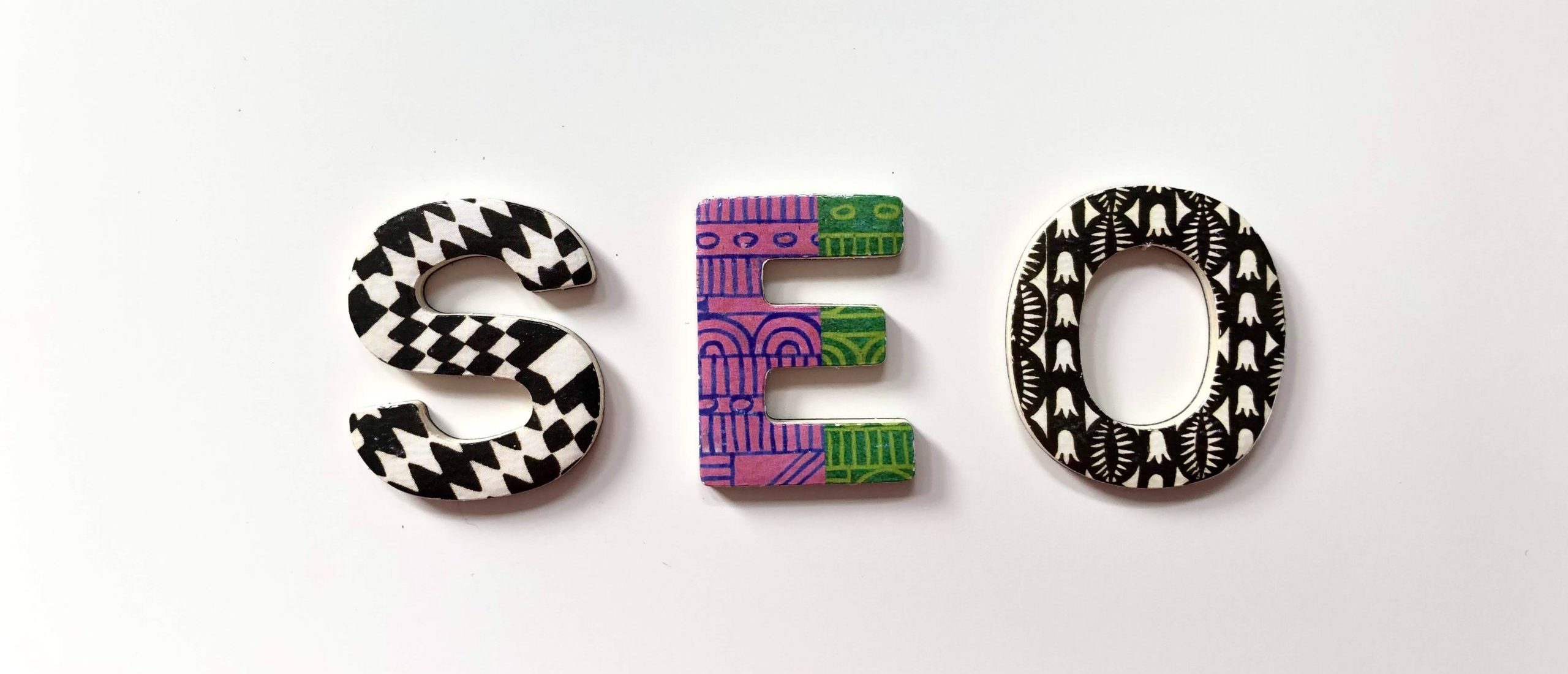 In this article, I'll show you 8 free SEO tools that will help you with your search engine optimisation – completely free!
You can invest a lot of money in SEO optimisation and website marketing. But you can't and don't always want to. Individuals in particular are therefore looking for good and, above all, free SEO tools that are still really good.
In this article you will find my selection of free SEO tools that can help you with various aspects of your search engine optimisation (SEO). Not only will they help you optimise your website, check your rankings and generally improve your SEO, but they will also allow you to analyse visitor behaviour, detect errors, develop marketing strategies and conduct keyword research. I use all these SEO tools myself, so I can recommend them with a clear conscience! 🙂
The importance of SEO and why we need (free) SEO tools
SEO is no longer an insider tip, but a critical success factor in online marketing. It stands for "Search Engine Optimisation" and refers to a set of techniques and strategies designed to improve a website's visibility in search engine results. When your website appears in the top positions of search results for relevant queries, you increase your chances of being found by potential customers.
Why is this important? Well, most internet users tend to only look at the first few pages of search results when looking for information, products or services. So if your website doesn't appear on these pages, you're missing a valuable opportunity to attract visitors and grow your business.
The good news is that you don't have to navigate the SEO jungle alone. There are a number of SEO measurement tools available to help you analyse your website, find errors, research keywords and optimise your content. And the best part? Many of them are free.
1. PageSpeed Insights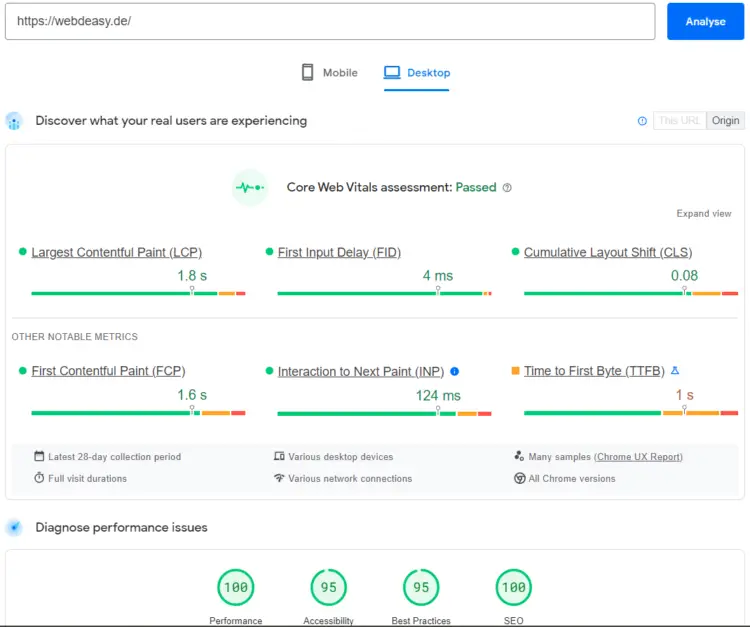 In my eyes, PageSpeed Insights is the most useful free SEO tool of all. This free SEO software gives you very good overview of the various core web vitals, which should also be included as a ranking factor for Google in the future. PageSpeed Insights is a tool provided by Google that measures the performance of your site on mobile devices and the desktop version and suggests optimisation options.
For each subpage, you can perform a separate measurement and get a score and possible improvements in four categories:
Performance: Assessment of page performance (e.g. time to load, time to interact).
Accessibility: Assessing how "accessible" content is to users (e.g. alt tags on images or visible important content).
Best practices: Best implementation of various techniques (e.g. use of HTTPS and correct image formats).
SEO: Checks that your site is found in the best possible way by search engines.
These tests give you a very good overview of the "quality" of your site, at least as far as the technical side is concerned. Possible improvements are shown directly, and ideas for troubleshooting are described very well and in detail in an extra forum.
For example, the metrics on my pages convinced me to change all my jQuery to JavaScript. This has given me a huge performance boost and made my pages load much faster.
If all your values are in the green (or yellow) range, your site is already very solid. If not, you know what to do. In addition to laboratory values, i.e. theoretically measured values, it also displays field data collected by real users using CrUX. The measurements are divided into different categories:
FCP (First Contentful Paint): The time that elapses before the first content is displayed on the page.
FID (First Input Delay): The time it takes for the user to interact with your site.
LCP (Largest Contentful Paint): The time it takes to load the largest text or image element on the page.
CLS (Cumulative Layout Shift): The time it takes for the layout to stop shifting. This can happen, for example, when loading images that do not have a fixed width and height.
2. Google Search Console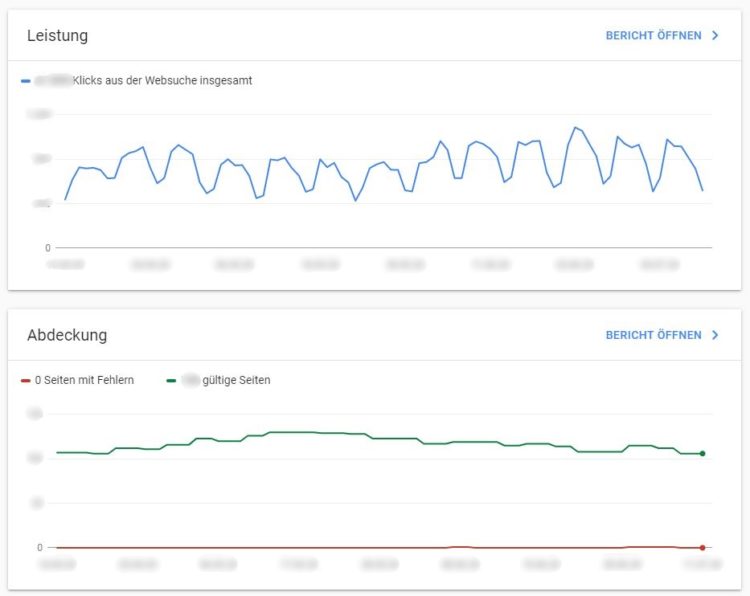 Yes, you read that right. Google Search Console, formerly Google Webmaster Tools, is the next free SEO tool.
The Search Console offers you the possibility to find out how many users reach your site via which search terms and search types (AMP result, pictures, etc.). You can also remove obsolete links directly from the search, find out keywords and keyword positions and compare them with other subpages.
But that's not all. As already mentioned, the Core Web Vitals should also become a ranking factor for Google, so that the corresponding statistics have already been integrated into the Search Console. In the corresponding report you get exact information about which factors are good and which should be improved.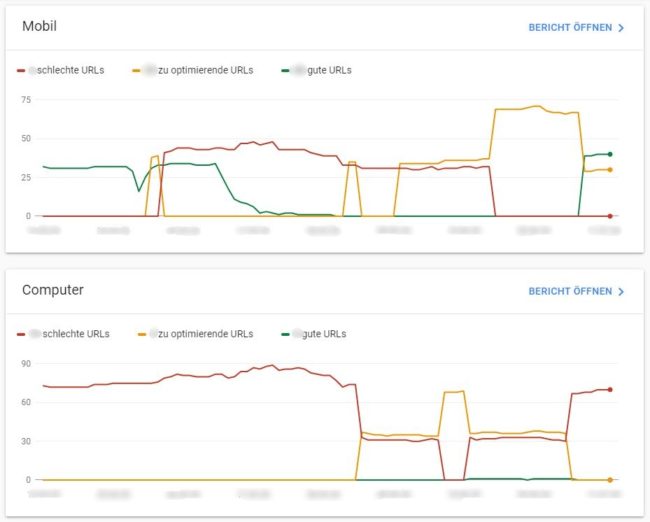 Furthermore you will get an overview about the usability on mobile devices, i.e. if your pages are optimized for mobile devices. This is important because Google acts according to the Mobile First Index and prefers good mobile pages and punishes bad ones in the ranking.
But the Google Search Console offers you a lot more options, like the validity indicator of AMP pages, FAQ rich snippets or sitelink search fields to name just a few.
It is therefore worth taking a closer look at the SEO measurement tool Google Search Console to unlock its full potential.
3. Ubersuggest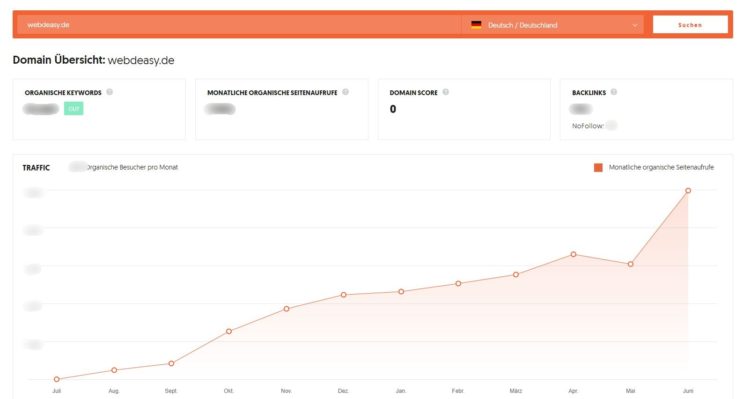 With Ubersuggest you get a complete overview of your website. For example, backlinks (more information), a domain score (how "trustworthy" your site is), an estimation of the monthly page views and much more.
Ubersuggest is best suited to provide a general insight into such values.
4. Matomo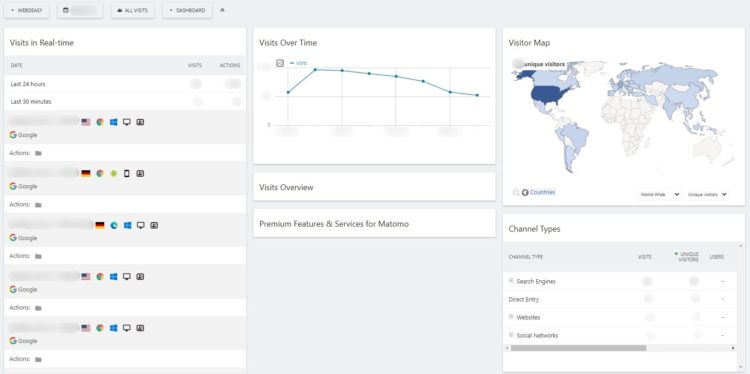 Matomo, often referred to as a Google Analytics alternative for websites, offers a powerful solution for tracking the activities of your visitors. Installing Matomo is a straightforward process that puts you in control of your data, ensuring it stays on your server without being shared with third parties. This feature, together with its cookie-less tracking approach, makes Matomo a compelling choice in the tracking software space.
Similar to Google Analytics, Matomo enables users to generate comprehensive reports that accurately describe the behaviour of different user groups on your website. Leveraging these reports through careful analysis can facilitate website optimisation, leading to improved visitor conversion rates.
When it comes to SEO measurement tools and free SEO software, Matomo's capabilities go beyond just visitor tracking. It can also provide valuable insights into the effectiveness of your website's SEO strategies, helping you to make data-driven decisions to improve your online presence and drive organic traffic growth.
If you use Vue.js, this tutorial will help you to integrate Matomo into Vue.js.
5. Keyword Surfer (Browser Extension)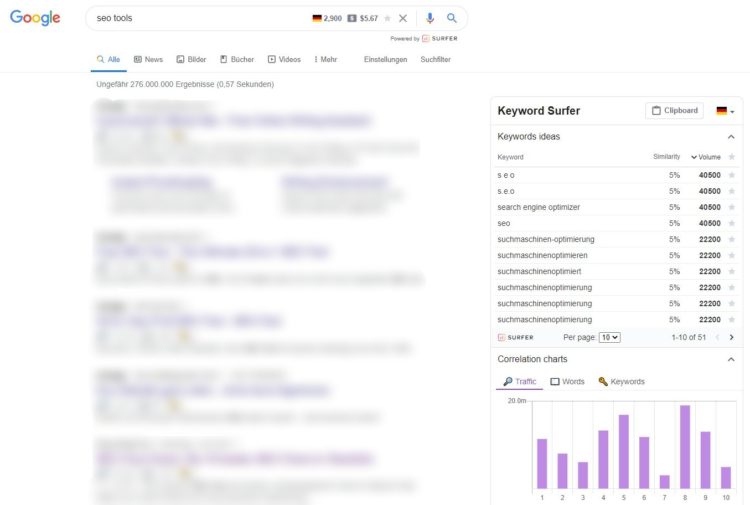 With the browser extension Keyword Surfer you will be shown the search volume of the keyword, traffic estimates of the top results, the number of words on the pages and the number of keywords on the pages in every Google search. The CPC (Cost per Click) for Google Adwords is also displayed directly to plan your campaigns.
This can help you to textually customize content to better rank for a particular keyword or get new ideas through the "Keyword ideas" column. Choosing the right keyword is an important task!
6. Google Trends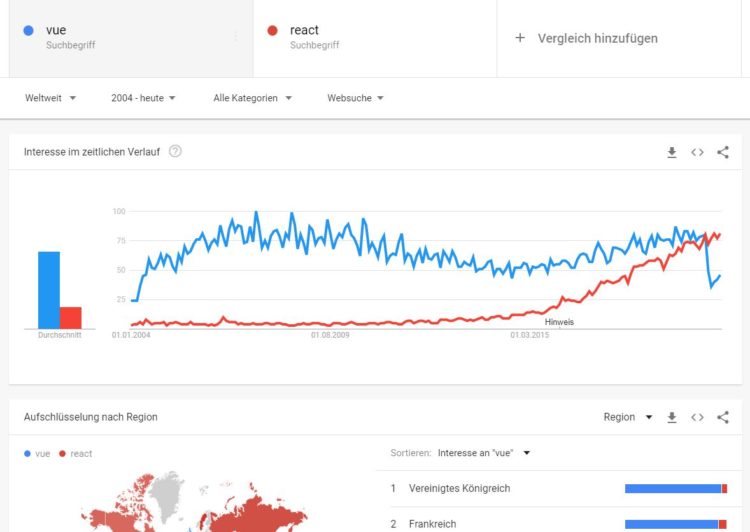 With Google Trends you can search for the right keyword. You have the possibility to compare several terms with each other over certain periods and countries.
You can find out which keyword has a better trend or which formulations are increasingly sought by users.
A banal example is shown in the screenshot above. If you are thinking about using "vue" or "react" as a keyword, you might want to think about what might be more useful?
I would prefer "react" here, as it is in growth and is more sought-after anyway due to a drop of the keyword "vue". I have chosen these two terms because I want to illustrate how such a statistic can be interpreted.
7. SEORCH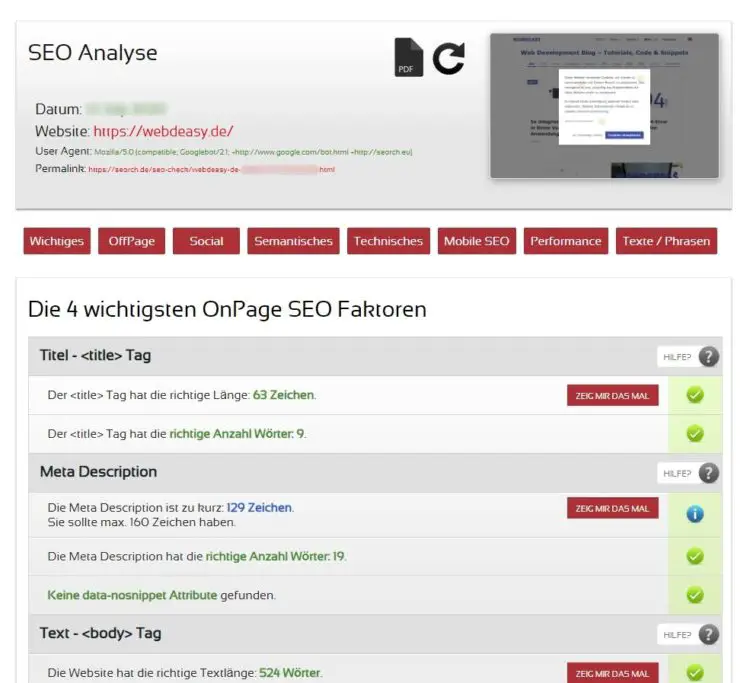 SEORCH is the last free SEO tool and offers you a detailed overview of the technical SEO implementation of your site. You get a complete evaluation of your HTML structure and a direct rating by green check marks or red crosses.
Furthermore, SEARCH counts the words that appear on your site and estimates what your keyword might be. The right ratio of filler words and keywords is very important for search engines.
8. Seobility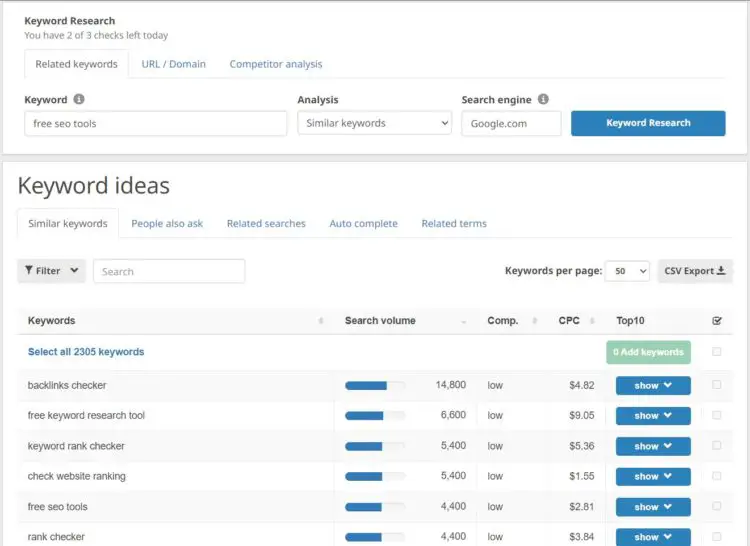 The final free SEO tool is a keyword research tool. This allows you to perform efficient keyword analysis for search engine optimisation. With this tool you can find relevant keywords, determine search volume and perform competitive analysis. This is essential for improving your website's search engine visibility and generating targeted traffic. The tool provides valuable insight into the best keywords for your content and helps you strategically plan your SEO efforts to achieve better rankings and more traffic to your website.
You have 3 free searches per day. If you need more, you will have to pay for the paid version.
Conclusion
The free SEO tools presented here will certainly help you with your SEO work, ranking check and overall search engine optimisation. PWAs are an interesting way to increase the reach of your mobile website. See the linked article for more information on this topic.
By using several different free tools you can get great results, but there is always work involved. There are of course many more, and this list is just a selection of free SEO tools. Happy optimisation! 🙂
What did you think of this post?


Related Posts
This can also interest you