2-Year Ezoic Review: My Experience with AI-Optimized Ads and Improved User Engagement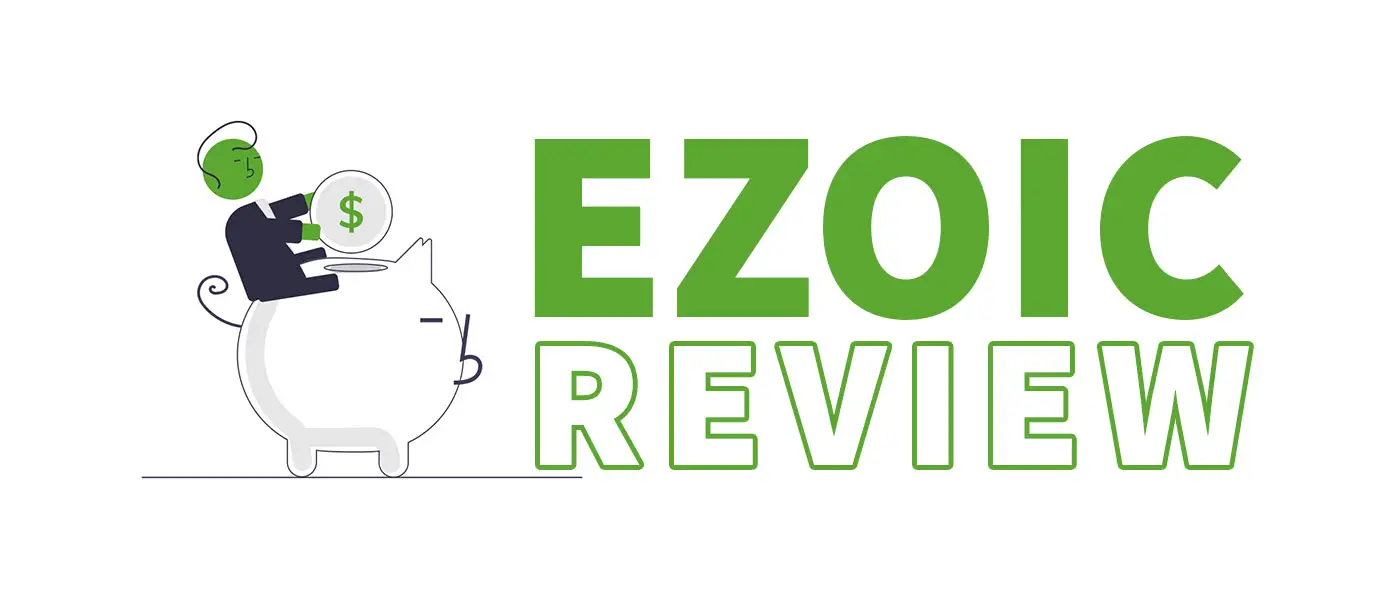 Find out if Ezoic, the full-service platform, which uses artificial intelligence to serve ads and improve user experience, is really as simple and effective as it sounds in my personal Ezoic experience report.
What is Ezoic?
Ezoic describes itself as a "platform for digital publishers". With the services offered, you have the opportunity to increase your website's advertising revenue, improve user experience and enhance your core web vitals.
An AI (artificial intelligence) helps optimize the positioning, topics and quantity of ads on your website or blog. This should generate an increase in advertising revenue of 50% on average.
Source: Ezoic*
Now that I have explained the formal facts, let's move on to my personal experience report after almost 2 years of Ezoic.
Revenue comparison: Ezoic vs. Google AdSense
Those who want to earn money on the Internet with the help of advertising banners often use Google AdSense. I have also used AdSense on this website since October 2019 and was also quite satisfied with the advertising revenue. However, I did not know Ezoic yet. 😉
Then in April 2021 I became aware of Ezoic (more on that later) and my earnings were not only increased by an average of 50%, but by about 250%! I really did not expect that. I don't want to disclose my exact numbers, but to give you an idea of how much more income it is, here are a few sample calculations:
| AdSense revenue per month | Ezoic revenue per month | Increase |
| --- | --- | --- |
| 60€ | 210€ | 250% |
| 100€ | 350€ | 250% |
| 800€ | 2800€ | 250% |
| 1500€ | 5250€ | 250% |
Sample calculations: Revenue increase by 250
I must have given away some money since October 2019…. 😮
Afterwards under income in the first weeks you will find out exactly how much I earn!
Even with the average 50% increase touted by Ezoic, it's noticeable in the wallet:
| AdSense revenue per month | Ezoic revenue per month | Increase |
| --- | --- | --- |
| 60€ | 90€ | 50% |
| 100€ | 150€ | 50% |
| 800€ | 1200€ | 50% |
| 1500€ | 2250€ | 50% |
Sample calculations: Revenue increase by 50%
If you already use Google AdSense or want to use both platforms in parallel, it's no problem. You can set in the dashboard how many ads should be delivered by AdSense and how many by Ezoic.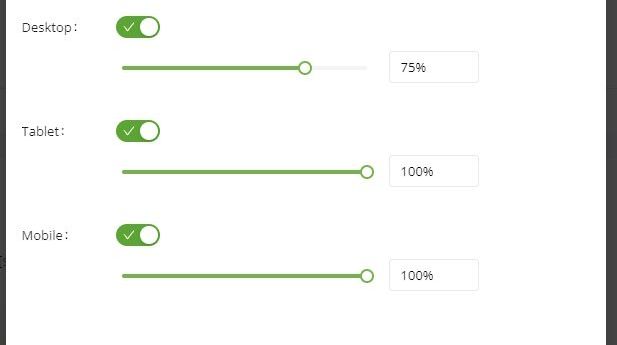 In general, the dashboard offers a lot of possibilities that you can set everything imaginable. For example, you can specify whether the ads should be optimized for revenue or user experience, which ad categories are displayed, how many maximum ads per page, ….. Really quite a lot.
How much do I earn with how many visitors?
Probably the most important question you ask yourself is: "How much will I earn with my current number of visitors?". Of course, you can't predict that exactly, since many factors are related, such as the theme of your website, the placement of ads, etc. Nevertheless, you can get a rough idea:
If you have 20,000 views a month with your website or blog, you will earn between $200 – $300. If you have 50,000 views a month, you will earn between $400 and $750.
This is how much you can realistically earn with your website
In this table you can roughly see what you will probably earn with your website with Ezoic. For this I chose a low EPMV ($7) and a quite high EPMV ($20). To do this, I searched the internet for other testimonials and used different people's EPMVs as a guide. Due to daily and seasonal fluctuations, I took such a wide range here.
But these are only fictitious values of which I believe that they can come close to reality!
EPMV stands for "revenue per thousand visitors" with consideration of the number of delivered ads. You can find the exact calculation here.
| Visitors per month | EPMV of $7 | EPMV of $20 | Average |
| --- | --- | --- | --- |
| 1,000 | $7 | $20 | $13,50 |
| 2,000 | $14 | $40 | $27 |
| 5,000 | $35 | $100 | $67,50 |
| 10,000 | $70 | $200 | $135 |
| 50,000 | $350 | $1.000 | $675 |
| 100,000 | $700 | $2.000 | $1.350 |
| 250,000 | $1.750 | $5.000 | $3.375 |
| 500,000 | $3.500 | $10.000 | $6.750 |
| 1,000,000 | $7.000 | $20.000 | $13.500 |
| | | | |
Realistic earnings with your website (according to visitors per month) – All data without guarantee
By the way, the highest revenues are generated from the end of November to the end of December, as this is when a lot of advertising is done because of the Christmas business.
Is Ezoic serious?
I was a bit worried at the beginning, because there were not so many reports about Ezoic on the Internet. However, that has changed in the meantime and I can say with a clear conscience: Yes, Ezoic is a serious provider.
Ezoic is a certified Google partner, this fact alone makes doubts disappear. This also gives Ezoic other opportunities that may not be available to competitor companies.
If you are still not completely convinced, then be sure to read this review to the end, read other articles on the Internet, or simply try Ezoic yourself for free. You are not bound to anything and can stop at any time without any problems if you don't like it. If you sign up for Ezoic via this link*, I will receive a commission. Of course nothing changes for you.
How much does Ezoic cost?
You can use Ezoic completely free of charge. If you monetize your website with Ezoic (i.e. run ads), there are two ways to "pay" for the services.
Possibility 1: Ezoic gets the money from an ad on your page (at the bottom of the page). You don't have to do anything else, it happens automatically.
Possibility 2: 10% of your complete earnings will be paid to Ezoic.
For me, option 1 is currently the better choice. However, you can make this setting yourself and change it at any time via your dashboard.
The first 30 days are always completely free. You don't have to provide any account or credit card information to sign up*. Ezoic also offers more services and subscriptions (Pro, Premium, VIP). You can find a complete overview here.
However, if you mainly want to generate advertising revenue through Ezoic, one of the two options just shown will probably be the most attractive for you.
Earn money with a small website?
If your website is still very new and maybe only has a few hundred or thousand visitors a month you can still use Ezoic. When I started with Ezoic, a website had to have at least 10,000 visitors to be included. But now Ezoic also offers an option for websites with less than 10,000 visitors per month.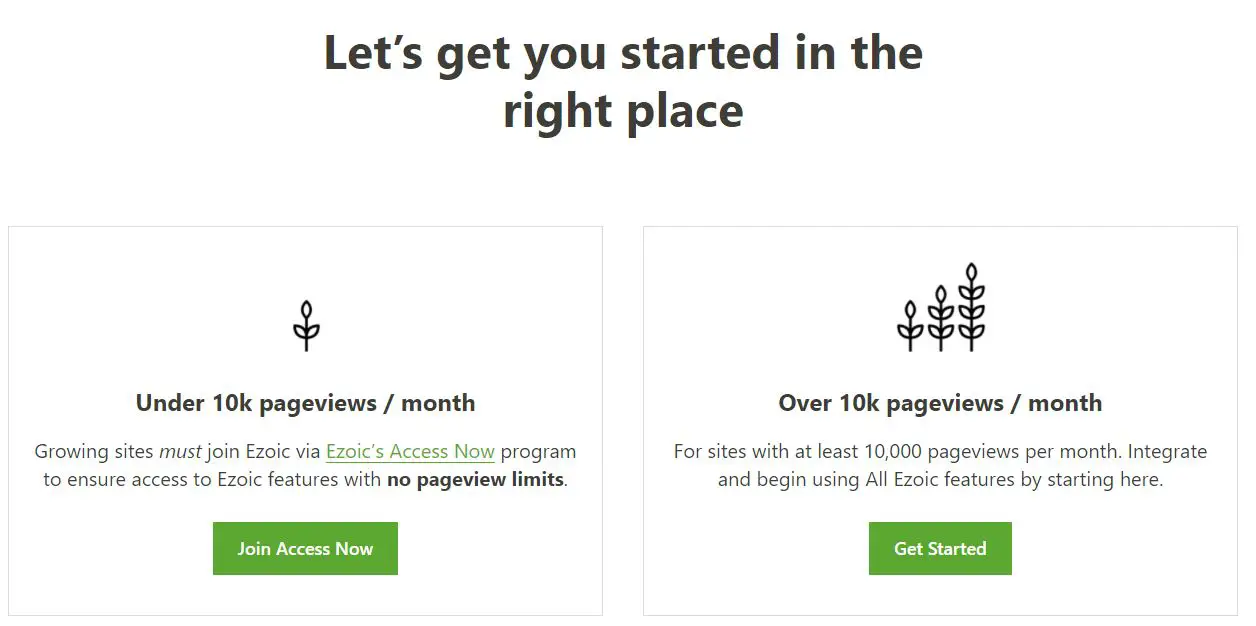 SEO Optimizations
An important point for me and many website or blog operators who deal with SEO & Co. are the Core Web Vitals. These "guidelines" from Google provide information about how well or badly your page is received by the user. Specifically, it is the usability (especially on mobile devices) and the page loading speed (Page Speed).
Unfortunately, I didn't note down exact values of the "AdSense" time. However, I often had problems with the speed, because the execution of the AdSense ads needs a lot of JavaScript. Ezoic has also recognized this problem and delivers the ads optimized. For example, the ads load last, after the rest of the content has already loaded. The ads should disturb the visitor as little as possible.
If you include Ezoic via the name servers you can benefit from CDN caching. This means that
My Ezoic experience in detail
First contact
I actually became aware of Ezoic through a personal promotional email, which I didn't pay attention to for months – in retrospect, a mistake. That's why I found out more about Ezoic (just like you just did ;)) and signed up*.
Immediately, an Ezoic employee got in touch and gave me a warm welcome.
The contact was generally always great: fast, competent responses and always an answer to all my questions. I also got information on background questions like how Ezoic works.
Ezoic Integration
There are two ways for Ezoic to place ads on your website. If you have a WordPress site, you can simply use the Ezoic WordPress plugin or you can change the nameservers of the site to Ezoic. I decided to go with the second option. All options still remain in my hands and I could change the nameservers again at any time.
We went through the entire setup process together. The most important thing was the placement of the AI display placeholder.
Ezoic has a help article or video for most of them. So you could also do the setup completely yourself.
Including registration, checking the prerequisite and setting the KI placeholders, the setup took about 1 week for me.
Revenue in the first weeks
In the first weeks, the AI needs some time to get to know your visitors. Therefore, there will be more chaotic or too many ads on your website. However, this will subside in the next few weeks. If not, you can reduce the maximum number of ads per page yourself. Here you have to find a balance yourself.
My personal supervisor contacted me with a personal evaluation of my initial data and explained everything.
On this image you can see the increase of the EPMV in the first week. Here you can see that the AI learns from the data and tries to achieve the highest possible EPMV (of course taking into account the user experience).

My EPMV is currently about $9 on average. That means I earn $9 per 1000 visitors.
I have read about some sites where the EPMV is also $15-22. This depends e.g. on the theme of the website.
First payment
My first payout was then in May. The earnings are always paid out one month later (as with AdSense). This means that you get your income from October only at the end of November. The payment is then always around the 27th-29th day.
As soon as you have entered a payment method and your tax information, you will receive your earnings. Your earnings must exceed $20. This should be far exceeded for most sites each month.
The complete bill of Ezoic is in dollars, so you always have to pay attention to the current currency rate.
Revenue development after 9 months Ezoic
In the meantime, I have been using Ezoic for 9 months and have been able to achieve pleasing figures.
The following graph is my weekly earnings so far. (During the peek in mid-May, one of my main traffic pages was searched very often for a short time). You can see very nicely that the AI still had to learn a bit at the beginning and then was at a constant level from the end of June. Then in November, the revenue started to increase as it was heading towards the Christmas season.

And I still have 10% of the ads delivered by AdSense. So my revenue could be another 10% higher.
Revenue development after 2 years Ezoic
After almost 2 years of Ezoic, I am very satisfied. In the course you can see fluctuations which of course also has to do with different user numbers. What I notice particularly with my site is that the first months after Christmas have always been worse. The same phenomenon is reflected in the official figures of the Ad Revenue Index. After Christmas, many companies spend less money on advertising.
I am now a member of the Ezoic Premium program and find it worthwhile. I will post more information about it in the future.

Other Ezoic functions
Big Data Analytics
Ezoic has its own analytics tool where you can get reports for your website. Super interesting to me here are the reports on user experience, page speed, and breakdown by page content length or content age (i.e. how many words a page has and when it was published). Here's a screenshot of the Analytic Dashboard. On the left margin, you'll find several views that can give you important clues about your website.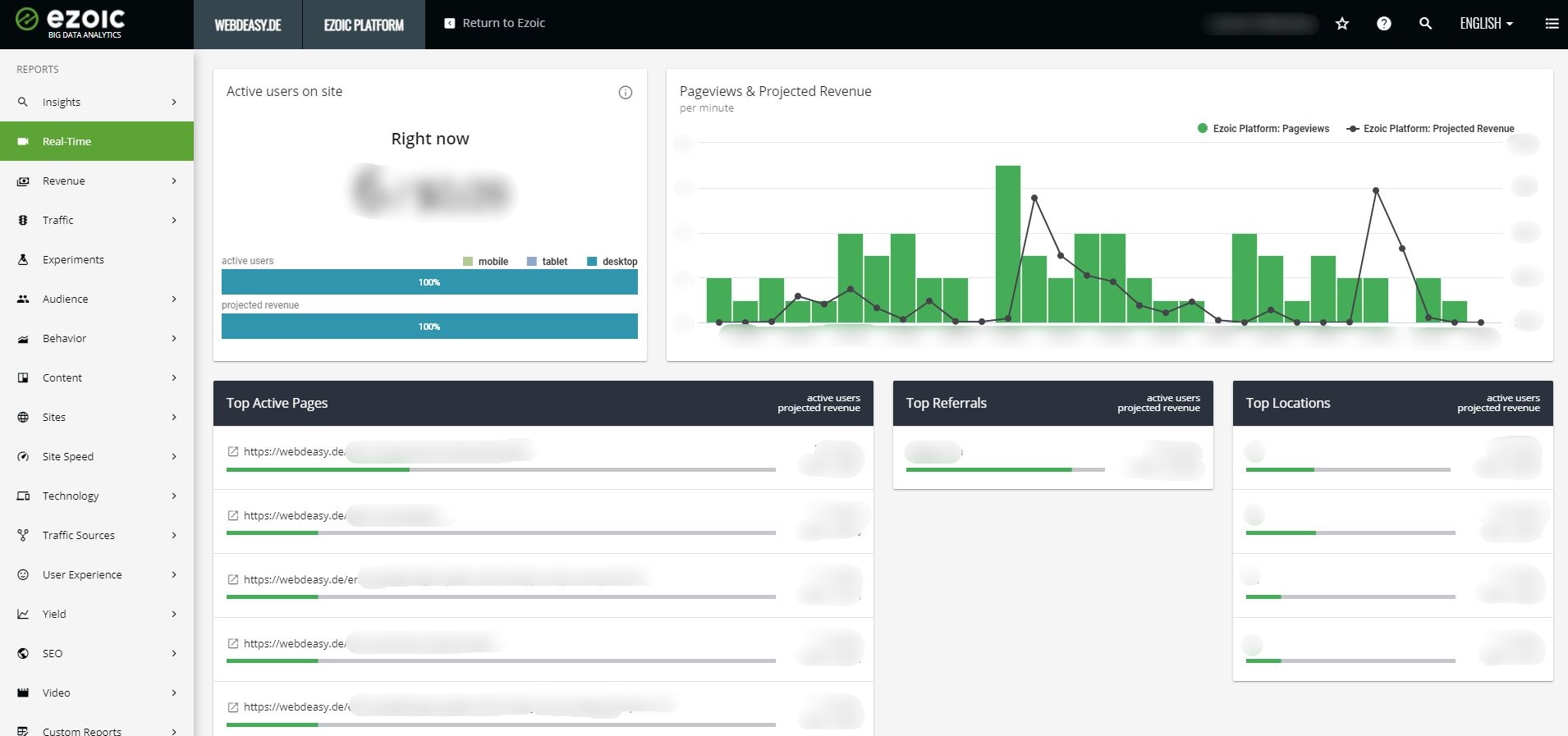 Ezoic Affiliate
Ezoic provides its own affiliate program. With this, you can earn a commission in addition to your advertising revenue when you recruit more people. I personally think this is very fair – and a win-win situation.
If you want to support me, too, you can sign up for Ezoic via this link*. Nothing changes for you and I get a small commission. ❤️💸
Ezoic Leap (Beta)
With Leap you have the possibility to optimize your site sufficiently for Core Web Vitals. You get an overview of the development of your scores. I've been using the feature for a few weeks now and my site has – as you can see – developed very well since then.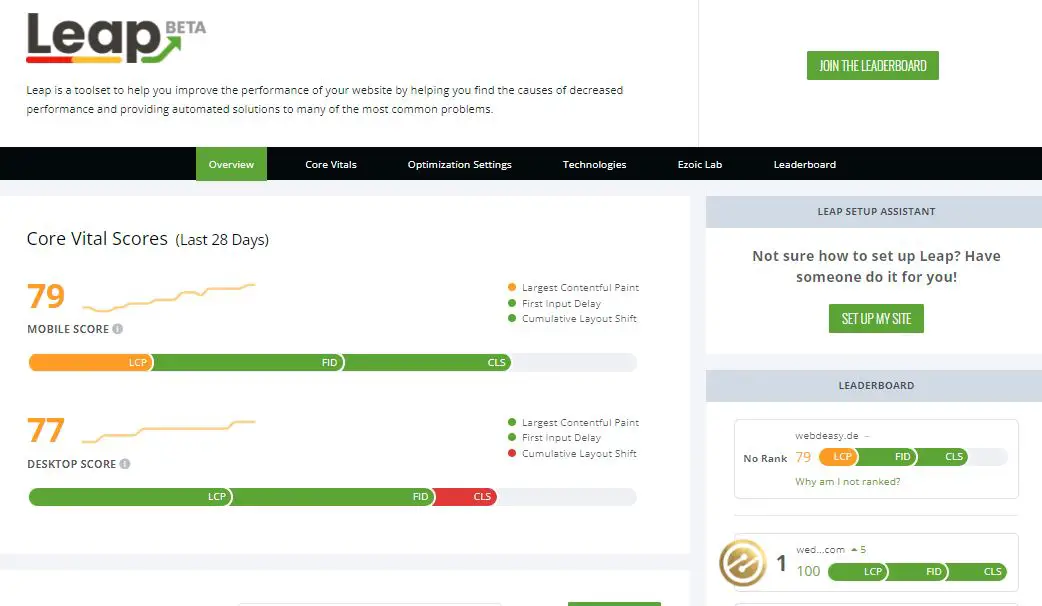 In the "Core Vitals" tab you have the option to make various optimization settings. It's all very technical and you can always get help from Ezoic so they do the setup. However, since I know my way around it, I've adopted it for myself and am constantly trying to optimize my site.
For each section you see here you can make many more detailed settings under "Advanced Settings".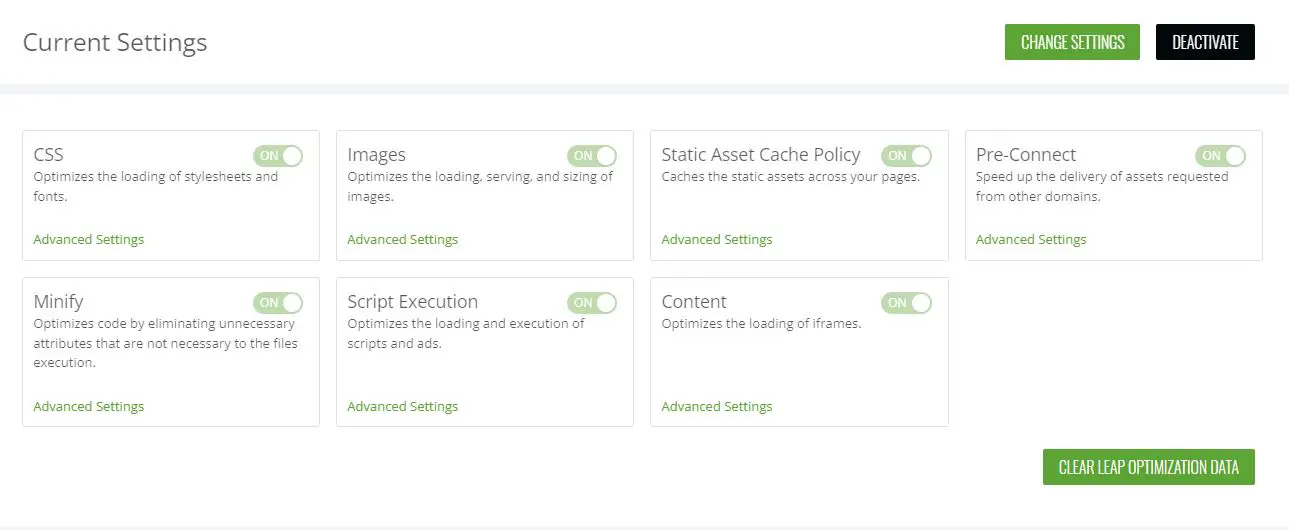 It is important to mention that you don't have to use any of the services, everything is voluntary. You can also use Ezoic purely to generate advertising revenue for your website.
However, I have yet to find any other services that can optimize your site as well as Ezoic – so I use a lot of the services they offer. There are no costs for me as a result.
Ezoic Cookie Consent
Logically, your website must comply with the applicable laws. In Europe, this concerns us especially with the GDPR. Ezoic therefore provides its own cookie banner.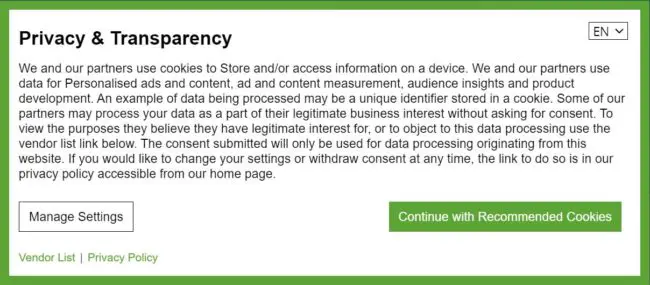 You can activate this for your website with just one click. I have programmed my own cookie banner. But also for this Ezoic has appropriate JavaScript functions to provide the same functionality. Again you can see: You can use the Ezoic services, but you don't have to.
There will also be a separate Service Privacy Policy page created for you. For my website you can find it here.
How Ezoic works (technically)
Since my website deals with IT topics I would like to contribute something in this article and explain briefly how Ezoic works technically.
When you add Ezoic to your website using the nameserver option, the nameservers point to a reverse proxy based on Amazon AWS infrastructure and combined with Cloudfront. There, all optimizations are performed and Ezoic's own tracking is inserted. Additionally, other optimizations are performed depending on what you have set of them in your Ezoic dashboard. The Ezoic DNS uses load balancing and can therefore be scaled completely flexibly.
The CDN's are located in 10 different data centers around the world (as of April 2021), so that the fastest possible one is always used for your visitor. This of course also pleases Google and other search engines 🙂
Conclusion – Is Ezoic worth it?
All in all, Ezoic is definitely worth it for me! The much better earnings and the ability to adjust every little detail are worth their weight in gold for me! Also the support is great – even on weekends. These are all things that you don't have to this extent with Google AdSense.
If Ezoic is something for you, you are probably wondering: If you have used Google Adsense so far, you will surely feel comfortable with Ezoic. You can sign up directly with this link*.
Even if your website is still very small, you can earn some extra money with Ezoic.
If you still have questions, feel free to contact me here in the comments 🙂
The links marked with * are Ezoic affiliate links. If you sign up with Ezoic through such a link, I get a small commission – nothing changes for you, of course.
➜ Sign up with Ezoic*.
What did you think of this post?


Related Posts
This can also interest you